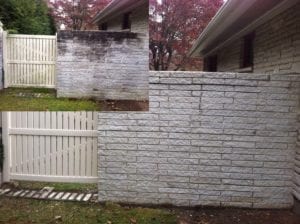 Bricks can come in many shapes, sizes, colors and textures and have a wide range of uses in both commercial and residential applications. Some of the earliest bricks date back as far as 7500 BC and were made mostly of shaped mud. Later bricks may be made of clay-bearing soil, sand and lime, ceramic and other materials.  Brick has been used for many years in the construction of homes, buildings, chimneys, fire places, walls, walkways and patios.
Dirt and Organic Growth (Mold, Mildew, Algae & Moss)
Like many building materials, brick can be susceptible to different kinds of environmental buildup. Mold, mildew, moss and algae are all organic materials that can grow on the surface and in the pores of your brick. We all know that these kinds of bacteria thrive in damp, shady environments. If you have a brick patio or walkway as well as a brick chimney, take notice as to which one looks dirtier. If they have been around for a while, chances are that your patio or walkway has quite a bit more buildup than your chimney does.  This is probably because flat surfaces usually stay damp longer, thus creating a perfect breeding ground for bacteria growth. Of course, being in a shady area (north side) and close to trees doesn't help either. Once mold or other bacteria starts to grow, it tends to spread fairly quickly. I have seen so many brick walkways and patios over the years that have turned almost completely black from mold and other buildup. Sometimes I think it's one of those things that you gradually grow accustomed to over the years, to the point that you forget what brick is supposed to look like!
What We Do
To combat organic growth, be it on the brick walls of your home, your chimney or walkway, we first treat the area with a detergent that will kill the growth and loosen the dirt. We then set the pressure on our cleaning equipment according to the age and condition of the brick. Older weaker brick, brick that has sand in the joints or very loose mortar will generally be washed using lower pressure. If the brick is newer and in great condition, we may turn up the pressure slightly. In my opinion, it's usually not a good idea to use very high pressure on brick. One obvious reason is the possibility of causing damage to the brick and/or mortar. Another reason is the possibility of creating a problem known as efflorescence, which I'll discuss more below.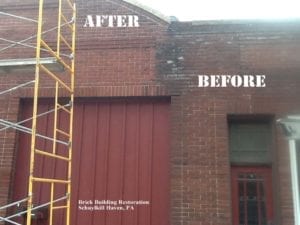 Carbon Buildup, Oxidation, Efflorescence & Mortar
Cleaning carbon buildup, oxidation run, efflorescence and excess mortar (usually form new construction projects) all require specialty restoration cleaners as well as specific procedures.
Efflorescence
There are different types of efflorescence and situations that appear to be efflorescence but are actually something different. I'll only get into primary efflorescence here.
Efflorescence occurs when moisture in brick (and other porous masonry materials) evaporates, drawing salts to the surface of the brick where they form a thin white-colored layer.  This situation can occur in new construction where brick was sitting on a pallet and moisture developed in the layers. When the brick is pulled from the stack, the moisture eventually evaporates, causing the process to occur. As mentioned above, using too high of pressure can force water deeper into the pores of the brick, leading to efflorescence issues when it evaporates.
Carbon Buildup and Oxidation
Carbon buildup is a less common problem and usually occurs on older brick structures and often close to busy roadways. This type of buildup (usually black) can take some work to remove depending on how long it's been present, how old the brick is and how porous the brick is.
Oxidation run can occur on homes or buildings with aluminum siding or window frames. When the aluminum oxidizes it may run onto the brick, leaving whitish or gray colored stains behind. These stains can sometimes appear as if they are "baked" into the brick (especially very porous brick) if they are left go for many years.
What We Do
How we tackle each project depends on many factors. We normally have quite a few different restoration cleaners on hand and we'll use them as a starting point in testing the surface first. Once we determine what solutions and process will work best, we provide a written evaluation and proposal. To everyone's advantage, our suppliers have over 20 years of experience in building restoration and product development and have been an invaluable resource.
Written by: Exterior Cleaning Pros
Tamaqua, PA